"I do not call you servants any longer . . but I have called you friends because I have made known to you everything that I have heard from my Father" John 15:15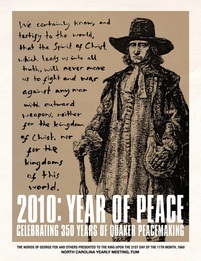 Ararat Friends Meeting is part of the historic Quaker faith tradition. Quakers are a Christian denomination founded by George Fox in seventeenth century England. The official name for the Quaker faith is the
Religious Society of Friends
. This derives from Christ's comment in John 15:15, "I have called you friends." The common name,
Quakers
, derives from the perception that early Quakers would rapturously "quake" during worship.
George Fox became disillusioned with the established churches and church authorities of the day, convinced that they had strayed from the original intentions of Christ and of the first Christians. He asserted that the only true authority is Jesus Christ, that one does not need an intermediary (minister) nor a formal organization (church) to further one's relationship with God, and that one could best achieve communion with God in silent worship. Thus was born the traditional quiet period of Quaker worship (
cf
. Matt. 6:6) that is maintained in
unprogramed
meetings, and partially maintained in
programmed
meetings. Additionally, Fox postulated what has become the most central principle of Quaker beliefs - that there is "that of God" in all persons. Other terms for this are, The "Light Within," "Seed Within," and "Christ Within." Quakers base this belief from John 1:9, which refers to Christ as, "The true light, which enlightens everyone."
From this basic religious testimony grew the more familiar
"
Social Testimonies"
that are unique to and serve as generic guides for Quakers:
S
implicity,
P
eace,
I
ntegrity,
C
ommunity,
E
quality (S-P-I-C-E). The Peace Testimony is, perhaps, most familiar to others. The Religious Society of Friends is one of the three recognized historic Peace Churches. Because of their stated belief that there is "that of God" in everyone they consider all persons to be equal. This is demonstrated in their being the first Christian denomination to officially take a total stand against war, to renounce slavery, to treat the Native Americans fairly, and to push for more humane treatment of both the mentally ill and the incarcerated. In 1947 the British Friends Service Council and American Friends Service Committee were jointly awarded the Nobel Peace Prize for their work in restoring peace in Europe..
Quakers are religiously diverse. Indeed, it has been noted that Quakerism is as much a way of life as it is a Christian denomination. Over the years, they, like most other Christian denominations, have split into different
branches
: evangelical, conservative, liberal, and a mix of all of those. Such differentiation has been facilitated, in part, by the fact that Quakers do not have a central lay authority, creed, or dogma to serve as a unifying force. Yearly Meetings publish a
Faith and Practice: The Book of Discipline.
This is not a rule book of do's and don'ts but instead reminds Quakers of their history and traditions, and offers a series of "advises and queries" that assist in prayerful contemplation of moral challenges according to Christian and Quaker tradition.
Quakers are a different denomination from the Amish or the Mennonites with whom they are often confused. Quakers are not distinct in their dress, speech, or interactions with the world. What is distinct is living a life putting into practice their testimonies and firm belief that there is "that of God" in all persons.
Ararat Meeting History
In June 1924 about
twenty-five members
of Pine Hill Friends Meeting submitted a
petition
to establish a monthly meeting in Ararat. By August interest had gathered enough momentum for the Surry Quarterly Meeting to appoint a committee to set up a monthly meeting in Ararat.
The original building was a simple rectangular frame structure with a cathedral ceiling that was lowered in a later renovation to conserve energy. At that time also, a small section was built at a right angle to the pulpit area adding more pews for worshipers. Congregants originally sat in straight-backed, lattice-seated chairs, one of which still stands at the front of the worship room.
There is a strong sense of family among the members of Ararat Friends--and they are a most welcoming family. Although they are few in number, when they are gathered together one can feel that they are gathered in many times their own measure. Anyone who shows up for worship is warmly welcomed and accepted as another carrying the "Light Within."
The faith, tradition, and dedication to Quaker Testimonies that has sustained Ararat Friends over the years will carry them on into the future. Along the way the Holy Spirit will protect, sustain, and bestow its eternal guidance upon this loving Quaker Meeting.
Top right photo: Original 1924 cornerstone
---